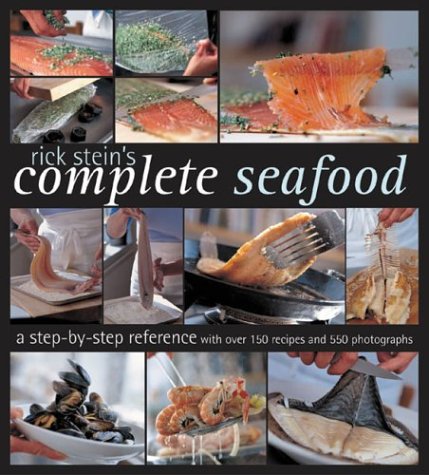 Rick Stein's Complete Seafood
- Hardcover
Goodreads Reviews : 4.14
by Stein, Rick
ISBN :1580085687
ISBN13: 9781580085687
About this item :
Fish is the ultimate sophisticated weeknight or company dinner, but it can intimidate even the most ...nimble home cooks. RICK STEIN'S COMPLETE SEAFOOD offers an almost limitless repertoire, with detailed instructions and extensive charts. Hundreds of photographs and illustrations show how to scale and gut fish for the grill, bake whole fish in a salt or pastry casing, hot-smoke fish, prepare live crabs, and clean and stuff squid, along with other essential techniques.

 The most comprehensive full-color seafood instructional available, now in paperback. 2005 James Beard Cookbook of the Year. Carefully vetted and adjusted to correspond with North American fish and shellfish availability and sustainability.  

 

 

 

 

 

 

 

 ReviewsFor all things fish related, we've found no better source than Rick Stein's Complete Seafood, a handsome, amply illustrated volume that details the selecting, handling, and cooking of every species imaginable." —Saveur (Top 100 Home Cook Edition)  "Many step-by-step photos make clear how to scale, gut and fillet fish and how to handle a wide variety of shellfish and crustaceans...Cooking techniques are given the sam thoughtful, step-by-step treatment. And the text is compelling enough, with lots of first-person instruction, to read at bedtime."—Washington Post


From the Trade Paperback edition.
Product details
Format : Hardcover
ISBN-10 : 1580085687
ISBN-13 : 9781580085687
YOU MAY ALSO LIKE