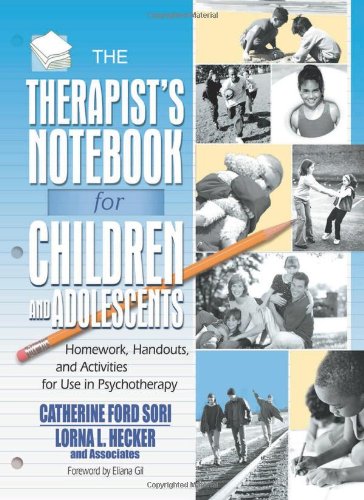 The Therapist's Notebook for Children and Adolescents: Homework, Handouts, and Activities for Use in Psychotherapy (Haworth Practical Practice in Mental Health)
- Paperback
Goodreads Reviews : 3.78
by Ford Sori, Catherine
ISBN :0789010968
ISBN13: 9780789010964
About this item :
This book puts a myriad of homework, handouts, activities, and interventions in your hands!

... />Targeted specifically toward children and adolescents, the "therapist's helpers," you'll find in this extraordinary book will give you the edge in aiding children with their feelings, incorporating play techniques into therapy, providing group therapy to children, and encouraging appropriate parental involvement. The Therapist's Notebook for Children and Adolescents covers sleep problems, divorce, illness, grief, sexual abuse, cultural/minority issues, and more, incorporating therapeutic approaches that include play, family play, psychodynamic, family systems, behavioral, narrative, and solution-focused therapy.

This ready reference is divided into eight thoughtfully planned sections to make it easy to find the right activity, handout, or intervention for the problem at hand: Dealing with Children's Feelings, The Use of Play in Therapy, Special Child Problems, Youth/Adolescents, Specific Approaches or Interventions, Family Issues, Parent Education and Intervention, and Illness and Bereavement.

Covering a wide age range, The Therapist's Notebook for Children and Adolescents will help you become even more effective with your youthful clients by:


providing creative ideas for use with children
expanding your repertoire of proven interventions and approaches to working with children and specific children's issues
exploring effective ways to run children's groups
showing you how to work with children in many modalities--individual, family, with parents, and in groups
examining ways to include parents and families in child/adolescent therapy to increase the ability to make systematic changes-helping the client's behavioral change to be reinforced at home
A far cry from typical child intervention books, The Therapist's Notebook for Children and Adolescents: Homework, Handouts, and Activities for Use in Psychotherapy does much more than simply help you teach skills to children. Make it a part of your therapeutic arsenal today!
Product details
Format : Paperback
ISBN-10 : 0789010968
ISBN-13 : 9780789010964
YOU MAY ALSO LIKE